Adam's Rib


Pickup Quote
'"Thou shall be called 'Familiar'"
Item ID
Missing ID
Character Appearance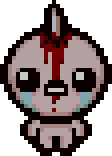 Item Pool
Treasure Room, Angel Room
Adam's Rib is a passive item from Community Remix Remixed.
Effects
[
]
Upon taking damage, Isaac shoots two short-range shots in random directions, leaving red creep behind.
Additionally, taking damage causes Isaac to spawn a random familiar, which can happen up to three times.
Unlock
[
]
Trivia
[
]
In the Bible, after Adam is created, God uses one of Adam's Ribs to create Eve.